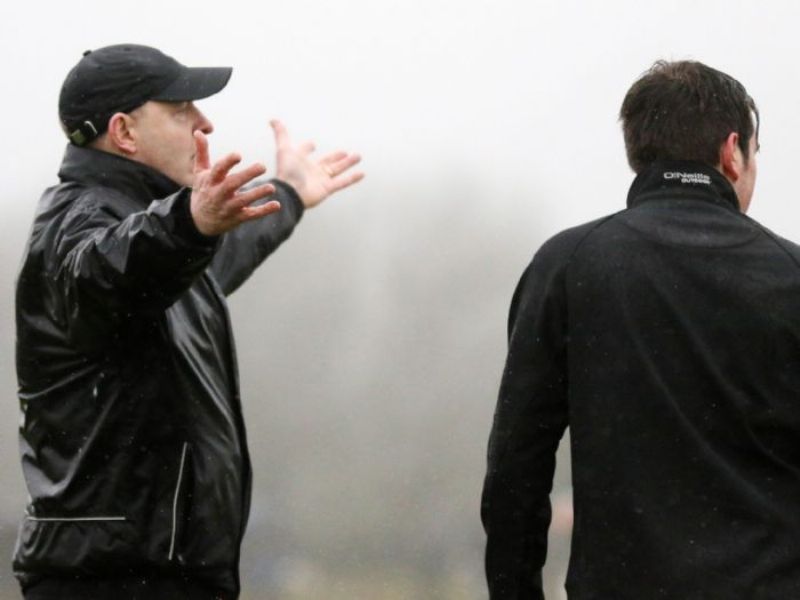 Paddy McLarnon Bank of Ireland U21 Club Football Tournament Final
Lavey manager Seamus Downey was in reflective mood when we spoke with him after Sunday's final. He witnessed his side fall to a 13 point defeat to Gaoth Dobhair in the final of the Paddy McLarnon U21 Ulster club tournament but was more than happy with the progress he has overseen in their championship run: "We'll regroup and take the positives out of this. The lads are disappointed, but our glass is definitely half full coming out of this competition.
"I told the lads that we don't have a problem with having lost in this competition. We feel like we've gained far more than we've lost. At the start of the year, we felt we could regroup and rebuild with this squad.
"We have 25 of a panel, six of them are still minor this year and 10 of them were still minor last year. It gives you an idea on how young this squad is. The rest will move on into the senior ranks now and this is going to be the backbone of our senior team for years to come."
On a day when his side were underdogs, Downey acknowledged that they needed the rub of the green but it didn't happen on Sunday while praising their opponents: "John Brennan said there himself and John's seen a lot of football. It was one of those days when things go against you. There were times we had three men around a broken ball and it fell into Gaoth Dobhair hands. It just didn't happen for us today.
"They have three inter-county senior players playing out there today. They were just a wee bit further on in their development than us.
"This is our fifth game in our championship run where we've been underdogs, we were even underdogs in the challenge games we played."
The early Eamon Collum goal proved to be a major factor in the final. It allowed Gaoth Dobhair to settle early while Lavey were playing catch up from an early stage: "We knew they were going to come running at us from deep but sometimes with your best laid plans, you don't have the armoury to deal with it." Downey continued: "The first goal was a bit of a sucker punch but we got ourselves back into the game. It was four three after about 20 minutes gone. It was disappointing as we kicked the ball away and they broke out at us. We're better than that. At that stage it was really an arm wrestle. We were coping well with them and I would have liked to have got to half time with a score line of that nature. When you play against teams that sit, you have to be really close. Once you go five or six points down it gets extremely difficult.
"We tried to mix things up after half time. Go longer, quicker but nothing broke for us. That being said there was still six in it with 10 minutes left. We felt if we got them down to three or four we could have got at them, but they got the third goal from a kick out straight past three of our lads. Their forward turned our defender with a push in the back that let them in. It's the small things like that you look back on."
A generation has come and gone since Lavey last lifted the senior football championship within the Oakleaf county and Downey feels that with a bit more work, their U21 side can provide the foundations for success: "It's not rocket science how to build a team to win championships. It takes hard work. I started with those lads Shea (Downey), Brendan Laverty Eamon (McGill) and them boys when they were four or five in an indoor hall in Lavey 15 years ago with a sponge ball. We've built the club and now we're trying to build the teams. There's no transfer market and you have to work with what you have but all successful clubs have done that and you have to stick with it. Our time will come."