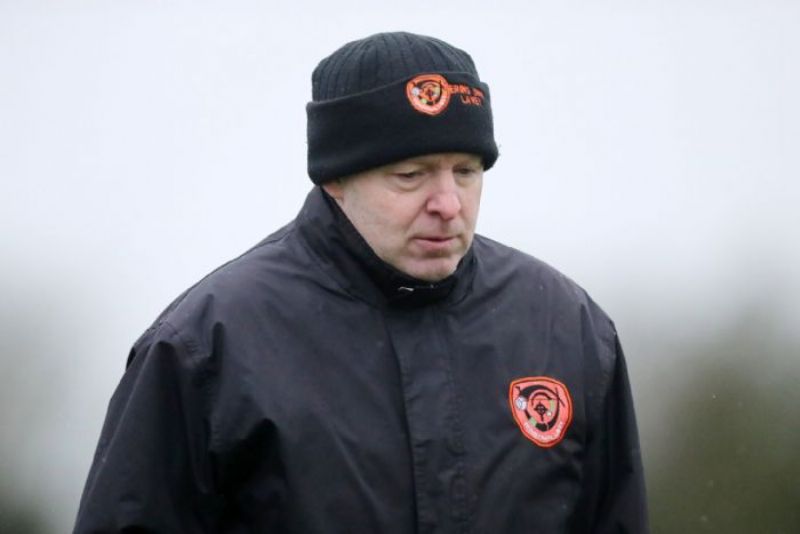 Downey: "We had to play better against Southern Gaels who in our eyes are a better side than Galbally"
By Brendan McTaggart
Lavey manager Seamus Downey was a happy man when he guided his troops off the Creggan pitch on Sunday. He had just witnessed his side defy the 'experts' and cruise past Cavan champions Southern Gaels with seven points to spare and the Derry champions now look forward to a date with Gaoth Dobhair in the final.
Having accounted for Tyrone champions Galbally in the quarter-final, three goals from Peter Rafferty, Fintan Bradley and Thomas Donnelly helped Lavey to book their place in the Paddy McLarnon Cup decider and Downey told us that they were expecting a bigger test than their last outing: "It was a totally different game to the last day. We knew that Galbally would have been more defensive than what the game was today so it was more expansive. We have great legs in the team and even though we're young we're very fit and quick on the break.
"I thought we played better today than we did the last day but it was going to take that. We had to play better against Southern Gaels who in our eyes are a better side than Galbally."
Despite scoring a goal in the first minutes, it took the Lavey men until the 20th minute to register another score. Southern Gaels dominated the kick-outs and were winning the lions share of dirty ball – an area where Downey's side impressed in the Galbally win but the Lavey manager wasn't overly concerned: "The kick-out count at half time wasn't good either on our own or theirs but bare in mind we were keeping somebody back so it gave them an option of going short all the time but having said that, even though we lost some of the kick outs deep in their half, they never really threatened.
" At half time even though it was close on the score board, we felt like we should have been ahead. I think it was two one on one's we missed, maybe three. The boys were a bit down and felt we should have been further ahead, but I was happy we weren't behind. I told them if we take stock and do the same again then we'll be fine. There was a wee bit of tension in the game coming up to half time, so we were eager to maintain our discipline in the second half."
Two goals in the space of five minutes changed the dynamism of the match hugely in favour of Lavey who could afford to go scoreless in the final quarter without looking in danger. Downey felt that their own discipline and Southern Gaels lack off, contributed to their success: "Once we got the first goal in the second half, a quite fortuitous goal compared to some of the one on one chances in the first half, once we had that buffer they lost a wee bit of their cool and the game was over with ten minutes to go.
"It looked like at one stage they were wanting to throw scalps. I don't know how many men they ended up with on the pitch, it was 11 or 12."
Downey himself was a key member of the last Lavey team to claim a Derry senior championship but a generation has now passed since then and the Lavey manager is welcoming the success the new breed are bringing to the south Derry men: "It's a long time since Lavey have been in this stage of any Ulster competition. These fella's weren't even born the last time Lavey won the championship, they can only listen to tales or watch the videos. We're yesterday's men or so we've been told and these boys are the future. They're taking their own leap of faith and building their own tradition. Whatever's happened in the past is gone and these boys are making their own name for themselves. They're a confident and young bunch so we're looking forward to the final and another two weeks together."